SCREW ON WIRE CONNECTORS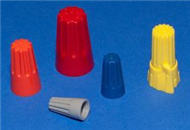 Screw On Wire Connectors are suitable to meet the requirements for both commercial or residential applications. A wire coiled spring is found within the tough plastic shell of the Screw On Wire Connector and expands to accommodate a wide range of wire combinations, sealing out moisture and protecting conductors from corrosion and fungus. The Screw On Wire Connectors cover common wire ranges and are designed with a ribbed cap for fast and easy installation. Screw On Wire Connectors are available in Gray(Small and Large), Blue, Orange, Yellow, and Red. These Connectors are available in bags of 100 or 1000 pieces.
WIRE RANGES
Minimum 1 #20+1 #22 through 4 #10
COLORS
Gray (Small and Large)
Blue
Orange
Yellow
Red
Download the Cable Tie Catalog - Screw On Wire Connector Section (PDF) for:
Specific Part Numbers
Available Sizes & Colors
and much more...
Featuring

Cable Tie Express stocks a wide range of UL and Military Certified Heat Shrink Tubing to meet all your wire and cable management needs.