Tefzel Cable Ties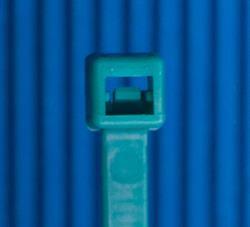 Tefzel Cable Ties are specialized cable ties recommended for applications requiring high resistance to environmental stresses such as chemicals, gamma radiation, ultraviolet radiation, and extreme temperatures. They are aqua blue in color and have a flammability rating of UL94V-0, a rating higher than cable ties manufactured with nylon 66 material and a UL94V-2 Flammability Rating.
The one piece construction of the Tefzel Cable Tie allows for consistent performance and reliability. Lengths available of the Tefzel Cable Ties range from 4" – 14". Tefzel Cable Ties have tensile strengths of 18 lbs., 50 lbs, and 120 lbs. Tefzel cable ties are available in packages of 100 pieces per bag.
Product Overview of Tefzel Cable Ties:
Tensile Strengths – 18 lbs – 120 lbs.
Material – Tefzel
Flammability Rating – UL 94-V2
Download the Cable Tie Catalog - Tefzel Cable Ties Section (PDF) for:
Specific Part Numbers
Available Sizes & Colors
Product Lengths
and much more...
Featuring

Cable Tie Express stocks a wide range of UL and Military Certified Heat Shrink Tubing to meet all your wire and cable management needs.