HEAT SHRINK TUBING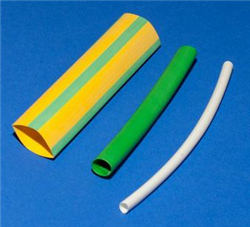 Cable Tie Express offers a full line of Heat Shrink Tubing products to its distribution network. Heat Shrink Tubing is used to insulate wires which offers abrasion resistance and environmental protection for wire conductors, connections, joints and terminals in the electrical engineering field. It can also be used in the repairing of insulation on wires or to bundle them together to add to the protection of the wires from strange solvents, dust and liquids of all types.
Heat Shrink Tubing products are categorized by series with each series rated by its expansion ratio - the difference in diameter before application of heat diameter after heat has been applied to the Tubing. Each series is also characterized by the thickness of the polyolefin.
PRODUCTS AND SHRINK RATIOS
Thin Wall Heat Shrink Tubing - 2:1 Shrink Ratio
Dual Wall Heat Shrink Tubing - 3:1 Shrink Ratio
MATERIALS
Polyolefin – Polyolefin is the most common material used in the manufacture of Heat Shrink Tubing. The operating temperatures range from -55 degrees c – 135 degrees c
PTFE-(Polytetrafluoethylene)-PTFE has an operating temperature range from -55 to 175 °C and has a high resistance to chemicals and punctures. It is typically clear or translucent in color.
Viton- Viton has a high chemical resistance and is widely used in hydraulic equipment. It is highly flexible with a very high operating temperature of -55 to 220 °C, making it suitable for protecting sensitive devices against heat.
PVDF- (Polyvinylidene Fluoride) – PVDF is used in high temperature applications -55 degrees C to +150 degrees C, applications requiring outstanding abrasion and cut-through resistance or superior chemical and solvent resistant properties.
Elastromeric- This material maintains high flexibility even at low temperatures and meets stringent international specifications. Its operating temperature range is -75 to 150°C. The material is resistant to many chemicals (including diesel and petrol) and has good resistance to abrasion, even in severe environmental conditions
Silicone Rubber- Silicone Rubber offers excellent resistance to scrape abrasion and high flexibility.
PVC is a low-cost, economical heat shrink tubing for military, commercial, and industrial cable assemblies. It is used for electrical insulation and has a low shrink temperature. It also resists many chemicals, oils, sunlight, moisture, and fungus. This tubing is very flexible.
COLORS
Black, Red, Blue, Yellow, Green, White, Clear
Featuring

Cable Tie Express stocks a wide range of UL and Military Certified Heat Shrink Tubing to meet all your wire and cable management needs.