Wire Connectors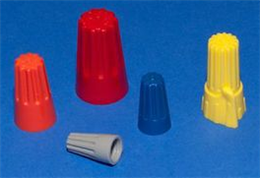 Wire connectors allow you to safely splice or connect two or more wires together, preventing the wires from contacting other wires or exposed metal surfaces. Regardless of your specific application, Cable Tie Express can provide the professional, high quality wire connectors you need and service to match.
Cable Tie Express is a one-stop shop for distributors looking for wire connectors, cable ties, and mounting products as well as the highest quality service and expertise available.
Types of Wire Connectors
Connector Colors
Gray
Blue
Orange (Screw On Connectors only)
Yellow
Red
Need Help Or Have a Question?
If you have a question about cable ties, wire connectors, or heat shrink tubing, please call CTE's experienced support staff at (888) 603-1233 or email us now.
Download the Cable Tie Catalog - Wire Connector Section (PDF) for:
Specific Part Numbers
Available Sizes & Colors
and much more...
Featuring

Cable Tie Express stocks a wide range of UL and Military Certified Heat Shrink Tubing to meet all your wire and cable management needs.