Welcome to Cable Tie Express! This website was created to introduce you to a company founded in 1995 when its co-founders, Char Cooper and Tony Van Hoozer, recognized the need to fill a growing performance gap in the cable tie and wire management supply chain. With nearly twenty years of sales growth and servicing its network of Distributors throughout many industrial market channels, Cable Tie Express now prides itself on earning the distinction as a World Market Provider of Cable Ties – frequently known as zip ties, tie wraps or wire ties – heat shrink tubing, mounting products, wire connectors, cable clamps and related cable management items.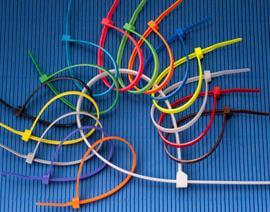 The humble beginnings of Cable Tie Express were fueled by energy, determination, and passion to always live up to its tagline – "tying service to quality" – and to consistently perform to achieve its Mission Statement: "To be the most responsive, dependable, and knowledgeable provider of superior quality cable ties and associated products". Throughout the years, Cable Tie Express has grown in terms of products, services, dedicated inside staff and outside sales agents, and facilities, now occupying a 30,000 square foot office and warehouse in Noblesville, Indiana with additional warehouse facilities in Dallas, Texas and shipping to its customer base throughout the country.
Capturing the Cable Tie Express proactive and integrated approach to the marketplace are three simple words - Define and Organize. Customer goals in terms of Product Line, Service, Quality, and Product Knowledge have truly become the driving force behind this Cable Tie Express philosophy that continues to evolve with each order shipped and each customer requirement met.
With cable ties at the core of the Cable Tie Express PRODUCT LINE, the company has increased its offerings through the years to include heat shrink tubing, mounting bases, wire connectors and cable clamps. Meeting customer requirements with a wide range of product and offering solutions and alternatives, such as a simple product substitution to a complete redesign of applications, have enabled its customers to achieve many of their own goals, including sales growth, direct and indirect cost savings, increased inventory turns, and vendor consolidation.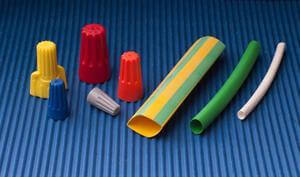 SERVICE has always been and continues to be at the backbone of the Cable Tie Express approach and a key element in its steady growth since inception. From the initial inquiry to shipment of the customer's product to developing long term growth plans, Cable Tie Express develops solid and mutually beneficial relationships with its customers. Consistent delivery and same day order fulfillment without backorders is uppermost as a company goal and is supported by the deep inventories of a broad range of products at its strategically located warehouses in Indianapolis and Dallas. Fast response time for quotes and orders, competitive pricing, cross referencing of parts, custom packaging and labeling, availability of prints, specifications and samples, and readily available information provided by a qualified and professional inside and outside sales staff are among the many services available through Cable Tie Express.
QUALITY is at the pinnacle of sourcing requirements at Cable Tie Express. With nearly three decades of experience under its belt, Cable Tie Express has had the opportunity to develop long term relationships with high quality, dependable overseas and domestic manufacturers. Working as a team with these sources has enabled the company to be successful in the implementation of additional requests through the years, such as traceability right down to the bags of ties and inclusion of specific test reports with each order received. Most recently, Cable Tie Express has invested in its own state of the art tensile tester and moisture tester which has lent additional credibility to its firm commitment to supplying the highest quality products.
PRODUCT TRAINING rounds out the Define and Organize approach for Cable Tie Express with the goal of strengthening relationships with its distributor partners. Recognizing the need for education and training and that a real key to sales growth lies with the efforts of a customer's sales team, Cable Tie Express offers training seminars and marketing tools to its key distributor customers.
In an age fueled by the need for lightning speed and instant communication in business, each member of the professional staff of Cable Tie Express, while embracing the latest technologies available for servicing its customers, is also committed to never losing that spark so key to its success since 1995. It is the personal spark of kindness, courtesy, friendliness and integrity – that smile that radiates even over the phone – that is heard in all of the voices as Cable Tie Express inside and outside staff live the company commitment of working to the highest standards of excellence.
Char Cooper, Founder, sums up all that has been and continues to be the backbone of the company when she comments, "While the entire Cable Tie Express team savors the past, is appreciative and thanks our customers for their loyalty, their business, and their friendships, we are confident that the best years for Cable Tie Express are yet to come. With our continuing to promote our Define and Organize approach with energy and enthusiasm, we are eager to further strengthen existing partnerships and welcome new customers with whom we can partner to help them achieve their business goals. We hope you find our website informative, helpful, and reflective of our 'tying service to quality' commitment to each and every one of our customers."