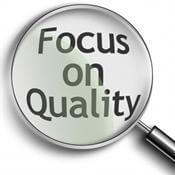 We truly believe in our tagline – Tying Service To Quality. At Cable Tie Express, our goal is to provide the best possible products while at the same time exceeding our customers' expectations on service. What sets Cable Tie Express aside from other cable tie distributors? We feel it's our competitively priced product line, our service, quality and product knowledge.
Product Line:
Our vast inventory of cable ties has increased to include heat shrink tubing, mounting bases, wire connectors and cable clamps. Our team is also flexible with customers, offering solutions and alternatives to their own product application. This allows our customers to achieve their own sales goals, cost savings and vendor consolidation.
Service:
From the initial phone call to shipment of your order, service is and always will be the back bone to Cable Tie Express. With various warehouses strategically placed in Indianapolis, Dallas and Orlando, our customers receive fast turnaround on all shipments.
Quality:
With two decades of experience, we have developed long-term relationships with dependable manufacturers. Most recently, we invested in a tensile tester which shows our dedication to the cable tie industry today and for many, many years to come. We don't just talk about quality, we live it every day.
Product Knowledge:
We recognize the need for education and training in the cable tie industry. Because of this, we offer training seminars and marketing tools to key distributor customers. Contact our staff today to discuss your education and training options.
Suggestions?
We are always striving to improve and offer additional value to our customers. If you have any ideas, we'd value your opinion.
Thanks for your input.