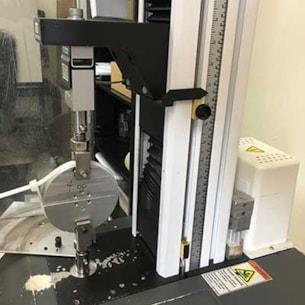 Quality has always been at the pinnacle of Cable Tie Express sourcing requirements. While Cable Tie Express receives comprehensive quality reports with each of its deliveries, the company has gone a step further with an investment in a state of the art Instron Tensile Tester. Tests are now conducted in house to provide for the following:
Tensile tests for incoming product assuring product meets specifications and confirms quality reports from manufacturers
Comparable test reports for products supplied to Cable Tie Express quality department from its network of distributors
Evaluation of products where concerns have arisen in the field – Cable Tie Express has always made every effort to analyze and address any concerns in a timely manner. Use of the Instron Tensile Tester provides the equipment to carry through on that commitment to assure satisfaction at the customer level.