Welcome to our new website! A lot of hard work went into our creation and we are very excited to finally be able to show it to the world.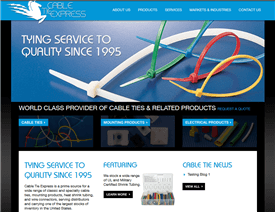 Co-founders, Char Cooper and Tony Van Hoozer, founded Cable Tie Express in 1995 after they recognized the need to fill a growing performance gap in the cable tie and wire management supply chain. With nearly 20 years of sales growth and servicing its network of distributors throughout many markets, we now pride ourselves on becoming a world market provider of Cable Ties, Heat Shrink Tubing, Mounting Products, Wire Connectors, Cable Clamps and related Wire Management items.
Throughout the years, we have grown in terms of products, services, staff and agents. Our main office is located in a 15,000 square foot office/warehouse in Noblesville, Indiana with additional warehouses in Dallas, Texas and Orlando, Florida. With locations strategically placed in the United States, we can provide quick turnaround time on orders.
At Cable Tie Express, we understand the value of being active and participating in various trade associations within the market. Currently, we are members of:
National Fastener Distributors Association (NFDA)
Specialty Tool and Fastener Distributors Association (STAFDA)
Industrial Supply Association (ISA)
Mid-West Fastener Association (MWFA)
Southwestern Fastener Association (SFA)
Metropolitan Fastener Distributors Association (MFDA)
Pac-West Fastener Association
Please review our website and provide us your thoughts. Although we hope you enjoy our new site, we understand the importance of personal connection as well. Therefore, if you don't find what you're looking for on our site or have additional questions, please contact us by phone or email.
We look forward to being your cable tie supplier for many years to come!